DUVAL'S DELIVERS!
Sarasota's Best Seafood Restaurant delivers delectable food & spirits to you home, office or hotel!
In addition to our free passenger shuttle service, Duval's delivers lunch, dinner and complete package bottle service of spirits, beer, and even wine from award-winning selection... right to your door!
CLICK HERE to view the package beer, wine and spirits list!
Free. Local. Shuttle. Service
Duval's understands that parking downtown can sometimes be a challenge. For this reason, Duval's offers a Free. Local. Shuttle. (FLS) for our guests.
How does the FLS work? Simply call or text 941-374-3996 with your location, the number in your party, and desired time for pick up, and the FLS will scoop you up and drop you off at Duval's for free! There is NO charge for the ride.

Where should I park? Park in one of the covered garages on Palm Ave., Whole Foods Market, or the soon to be completed State Street Garage.

Coming from home or work? For those of you who live and/or work downtown, call or text the same number and let us know your address or building and our driver will arrive to chauffeur you to/from Duval's. (See map below)

How many people can fit in the FLS? The FLS can accommodate parties up to 9 in a single trip!
Schedule
Monday - Friday: Available from 11:00am - 2:00pm & 4:30pm - 10:00pm

Saturday: Available from 11:00am - 2:00pm & 4:30pm - 10:00pm

Sunday: Available from 11:00am - 2:00pm & 4:30pm - 9:00pm
Duval's Free. Local. Shuttle. service will be limited on Christmas Eve, and not running Christmas Day. Main Street is closed to vehicular traffic at times. Our drivers will make every effort to get you as close to Duval's as possible!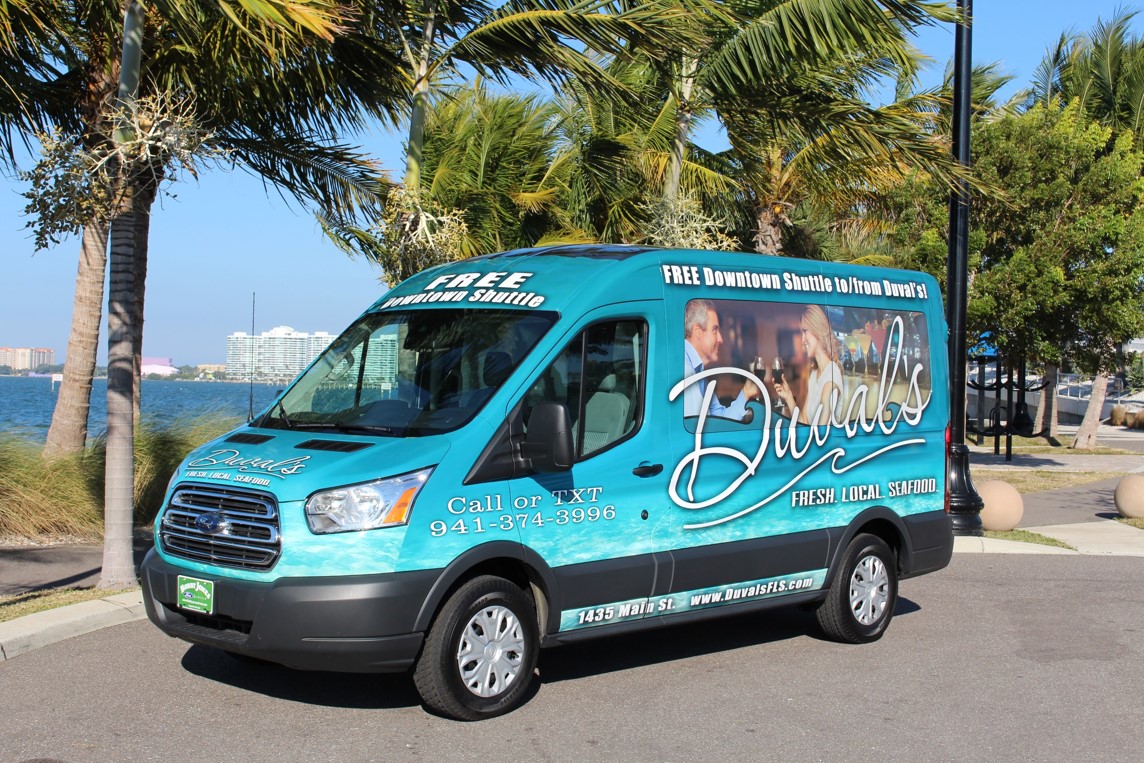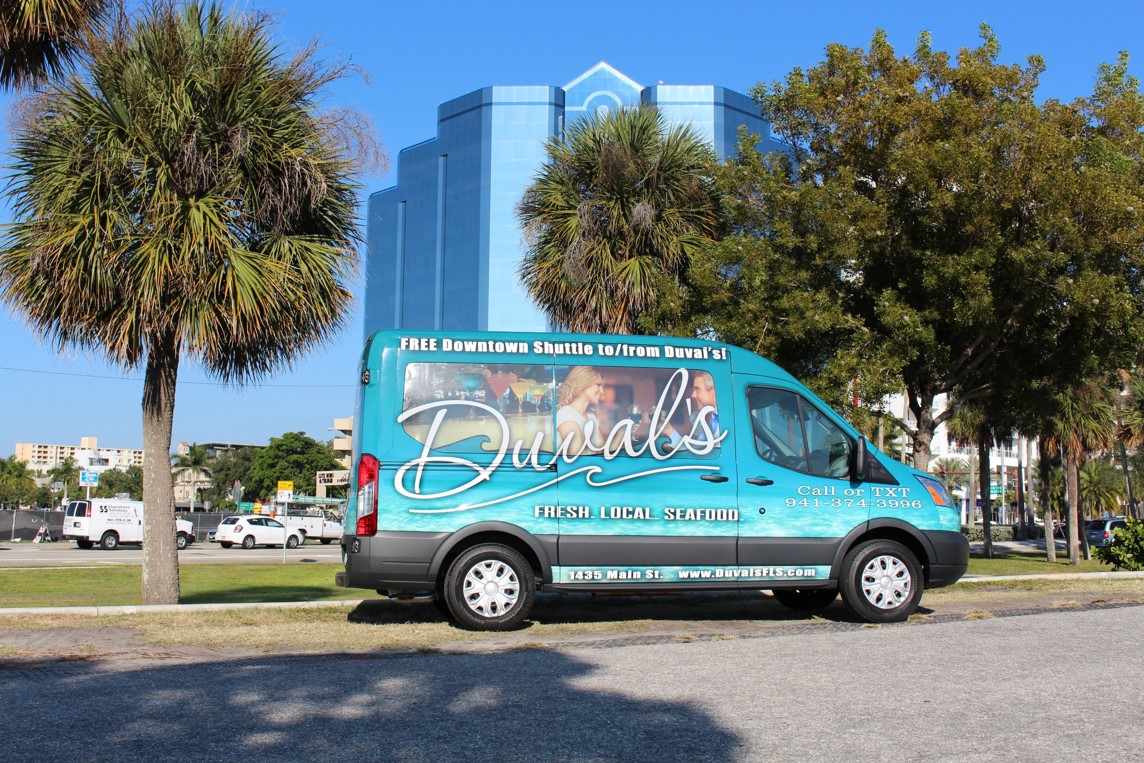 The Free. Local. Shuttle. Experience
Courteous drivers will deliver you safely and comfortably to Duval's Fresh. Local. Seafood's. front door. In inclement weather, the dining team members will be standing by with umbrellas to ensure your complete comfort! When you are getting ready to depart and return to your point of origin, let one of our team members know and they will arrange return transport.
Your experience at Duval's should be what you're expecting. A tasty libation from the bar? Yes! Amazing menu selections to tantalize your tastebuds? Absolutely! Worries about finding parking or getting caught in the rain? No way! We can't wait to see you soon.
*On occasion, the FLS may be resting for the day. Check the schedule below to ensure the shuttle will be in operation.
Free. Local. Shuttle. Map